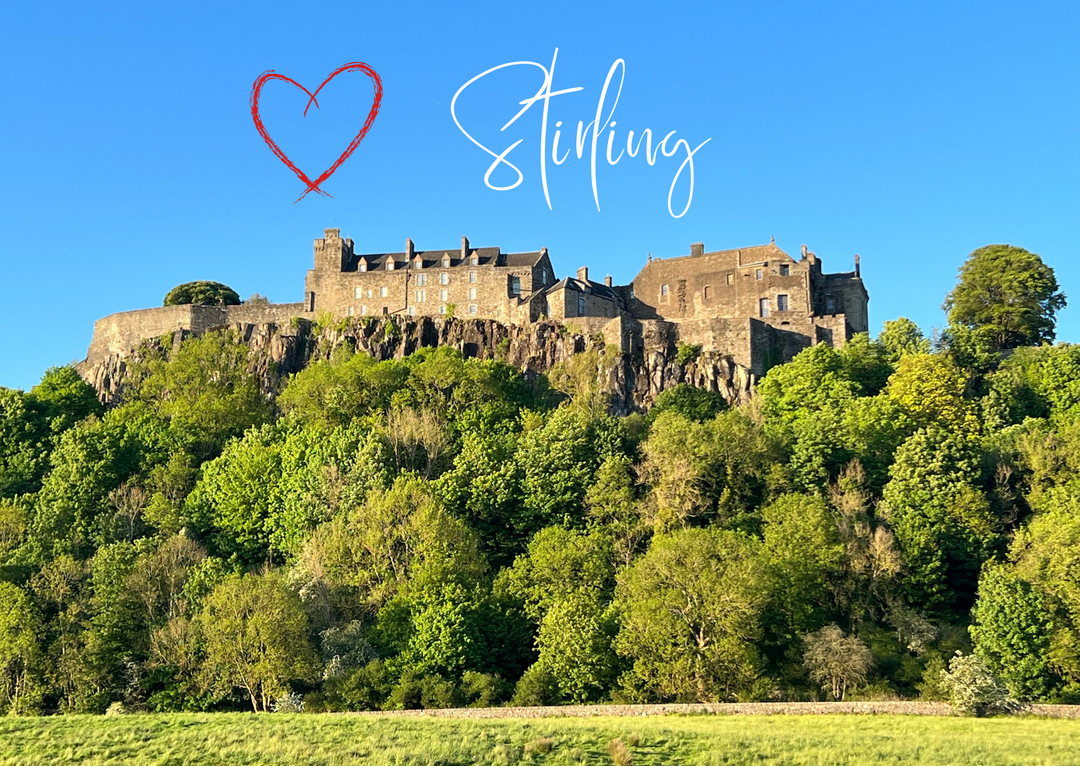 Clan Artisan Supporting Local Independent Businesses in Stirling
Since we opened our shop in October last year, we have been asked by numerous visitors to recommend places to eat and visit in Stirling, so the mission to write a blog regarding our wee city began.
Although, this was originally going to be one blog post, there was a lot more going on in the city than what we had anticipated. Therefore, welcome to what will now be a series of local blogs with various ideas of what to do here.
Visit Clan Artisan
Our wee shop is situated in 56 Port Street, about a 10-minute walk to Stirling Castle. If you didn't know is the main image on this blog. You won't be able to come to Stirling and NOT see it and this picture was taken on a glorious day here.  It's a myth that it ALWAYS rains in Scotland, it does quite a lot though.
But that's why it's so green and beautiful here. Top tip – ALWAYS bring your brolly (although while writing this blog we have had over 2 weeks of glorious weather!).
Cafés in Stirling
We thought we should start our series of blogs with places to eat (with coffee!) in Stirling, as you can't tour a city and enjoy what there is around, if you are hungry.  
Stirling has a wealth of lovely independent, shops, restaurants, bars and cafés on our doorstep, all very different and unique and this blog in the series is going to highlight the amazing cafés.
It's also very difficult to mention ALL of the amazing hard-working businesses we have in Stirling. Apologies to any businesses we haven't had the pleasure of visiting and/or mentioned.
Janna's is a lovely little bakery café right across the road from our shop. It's a family run business and you will receive a friendly welcome from Janna and her husband. If you love Cinnamon buns, this is your go to place.  Janna has so many different flavours of them. They also have savoury items such as handmade sausage rolls & pastries, rolls, paninis & sandwiches. The menu also has Scottish or Mediterranean style breakfasts to choose from and a large choice of cakes. Fresh coffees and take away options available.
Another little gem of a café on the same street as us. It's a family-owned business and David the owner opened this little café in September 1998, so they are very established business in Stirling.
Don't be fooled by the size of this place - the menu choice is huge and what they can rustle up in that wee kitchen astounds us! They also have outside seating and do take away foods – so get your picnic sorted for your tour of our city. You have to sample the full Scottish breakfast while visiting too.  
Another lovely family run café, which is hidden down a little lane across the road from us. They have a vast menu with so much choice and all made to order. You can sit inside the café, or they have a beautiful little courtyard outside, where you can enjoy the warmer days eating alfresco.  Fully licensed, so you can enjoy a glass of wine with your meal. Dog friendly and a takeaway service is on offer.
This is another lovely café to visit in town and a great location if you are heading up to Stirling Castle. They make their own sourdough bread and cakes in their own bakery, and they all taste delicious. A vast menu that covers just about every palate.  Vera's is dog friendly, and they have a little play area for toddlers. So, it ticks a few boxes. They have outside seating for these warmer days.
Chester's is always busy as the food is so fantastic. Making fresh sandwiches, homemade soups, toasties and loads more. Serving their own blend of coffee, which is one of our favourites.  They also have a delightful seating area outside and are on the route up to the castle.
A perfect position if you are visiting the castle. It has such a cosy atmosphere, friendly service, and lots of homemade dishes on their menu. Their tapas are amazing, and they do a lovely afternoon tea (which you should probably pre-book). They are licensed throughout the summer months for that glass of wine in the sun in their outside seating area. They are dog friendly.  
Unorthodox Roasters are nestled in the heart of Stirling's historic old town, on Friar Street, in the corner beside Europa Music. With a cute wee outside courtyard to sit in when the weather permits or a cosy modern café area inside.
The coffee from these guys is amazing and they source some of the world's best single origins from around the world. Roasted in Scotland. They provide pour over filter coffees, expertly crafted flat whites, and amazing cakes - which are joined by a selection of treats, exclusive to their Stirling store.
Local Folks
We need to remember to support as many local businesses as possible, to encourage growth in our city. We don't want any empty shops or units.  So, we hope that these wee blogs can do a little bit to help. Please share to help our city Flourish as the Government aren't going to help us all out.
Other Café's to check out:
Keep an eye on our page for the next blog in the series about restaurant's in our wee city. 
---