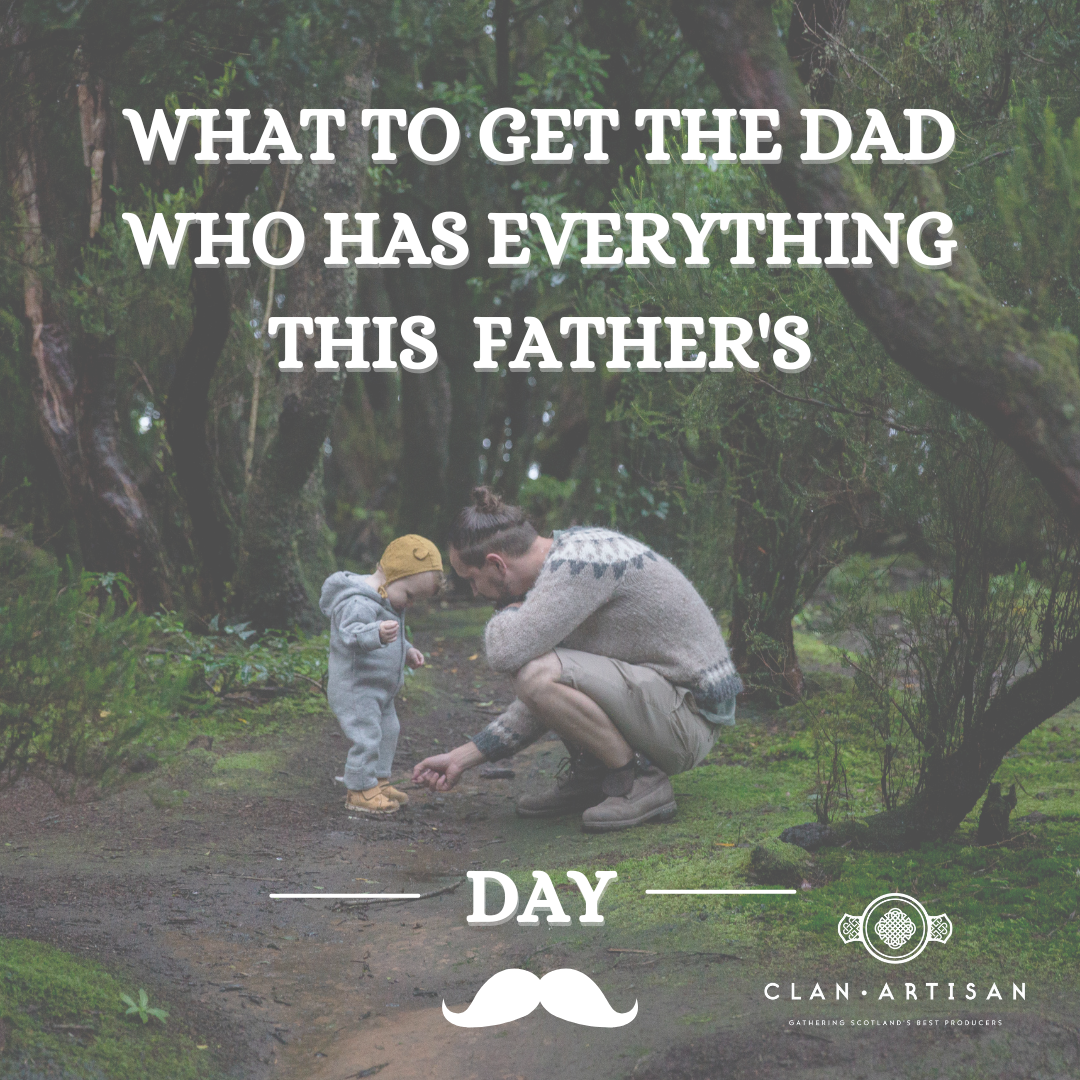 Gifts for Dads who have Everything
Father's Day is Around the Corner 
The big day to celebrate our Dad's (or the Father figures in our lives) is not far away, Sunday 18th June 2023 to be precise, and the age old question of; "what to get the main man when he has everything already" is on our lips! 
The Foodie Dad 
Let's face it, most Dad's love food but some are quite fussy about what kind of food they do like. Here at Clan Artisan we have such a great range of Scottish Artisan food products for his gift bag and hamper that you are spoilt for choice!  
If your Dad has a sweet tooth then we've got you sorted! Why not add some Ochil Fudge to his gift or a sensational bag of All That's Delicious handmade Scottish tablet, he won't be disappointed with the amazing sweet treats.  
If he's more of a savoury guy, then we have Hawkshead Whisky Smoked Cashew Nuts or a box of handmade Your Piece Oatcakes, which would be delicious paired with some Damn Fine Cheese and a dollop of Galloway Lodge Chutney! 
The Tattooed Dad 
Maybe he is a biker or an office worker but he just loves his tats! We have the perfect gift box created just for him. Our Tattoo Man Gift Box is the perfect gift for your old man. 
Maybe you don't want to go for the full tattoo gift set but want to order the individual products to compliment your Dad's gift. No problem, you can add The Ink Balm or the Liquid Tattoo Soap to your gift in our shop (56 Port Street, Stirling) or online here.
The Fishing/Climbing/Outdoorsy Dad
Dad needs some 'me time' too, and whatever he is into we have got the best wee products to help him enjoy his outdoor activities. You can't go out without a cup and some coffee! The cup needs to be lightweight and durable, so our Enamel Mugs from Snappy Crocodile are just perfect. 
He will also need some caffeine to keep him going, so we have The Wee Tea Company Coffee and Tea bags to make a cuppa when he is out and about, he'll just need a flask of hot water. Or maybe he needs a bigger bag of coffee, some that may blow his socks off! 
Pre-Made Gift Boxes 
We have a whole host of pre-made gift boxes that may be suitable for the big man too, check them all out here and make sure you order early to guarantee your products, gift and delivery date!  This includes our green or blue foodie football gift box, perfect for the big football fan! 
Happy Father's Day 
Whatever you do with Dad/Step-Dad/Grandpa this Father's Day, we hope you have a wonderful day and Dad gets a day all about him. 
---