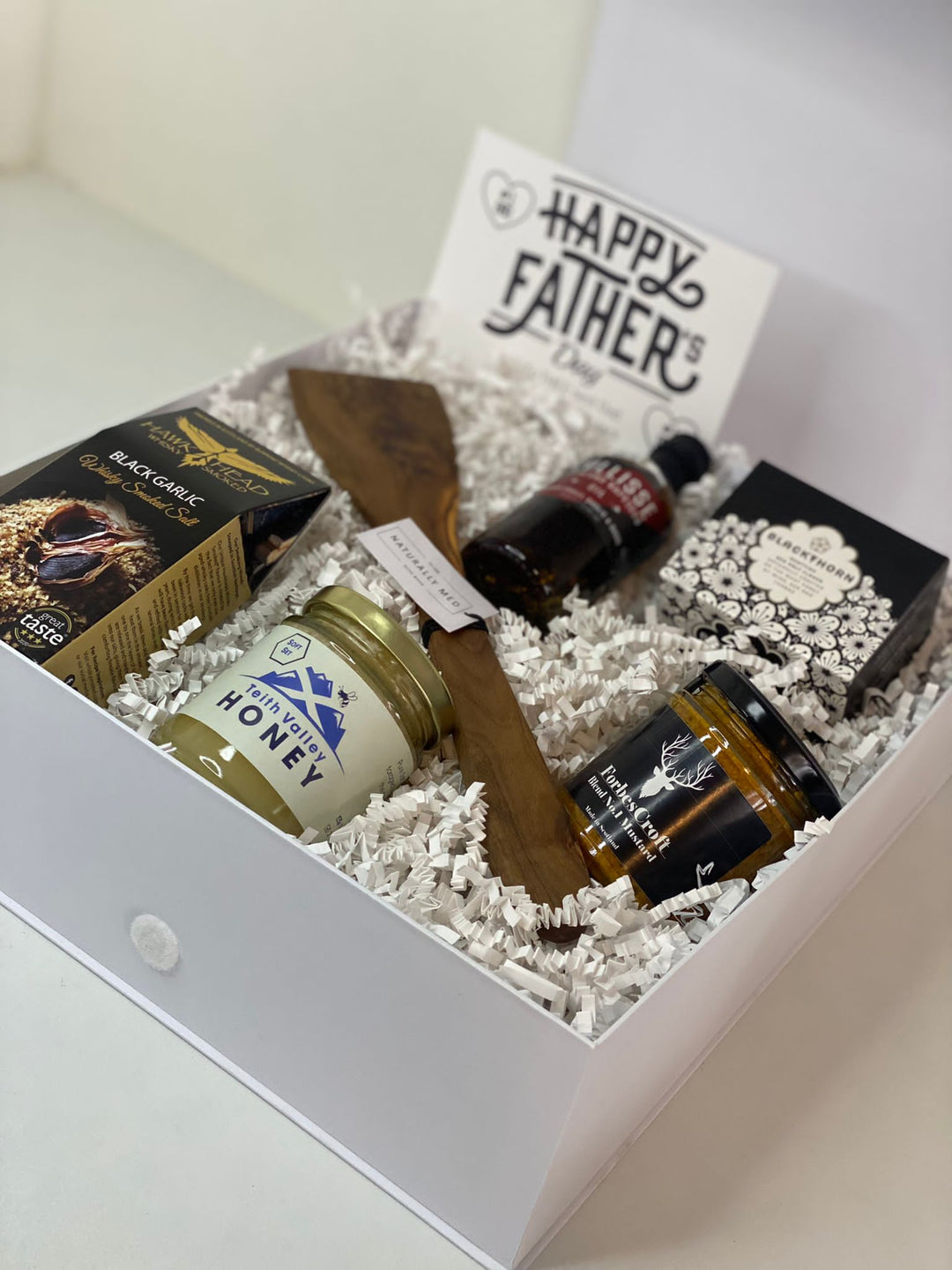 The Clan Artisan Gift Guide for Father's Day
Dad/Step-Dad/Husband/Grandad/Father Figure . . . they all say the same thing, "don't buy me anything" and give absolutely no hints to what they may like or want for Father's Day (19th June 2022) and we all want to use this day to let them know how much we love and appreciate them.
Here at Clan Artisan, we have created the perfect gift guide for the father figure in your life, whatever he is like or is into we have something for him. No more searching for 'what to get Dad for Father's Day'!
The Nibbler
Is Dad always eating something? Snacks before dinner, supper and before bed? If you always catch Dad having a nibble then our 'The Nibbler' gift hamper is perfect for him. A sweet and savoury treat with chocolate, cheese, nuts, jams and oatcakes.
The Coffee Man
Dad can be a man of a few words at the best of times but in the morning before his coffee is probably when NOT to talk to him! If your Dad is a coffee connoisseur and loves the perfect coffee in the morning then our 'The Coffee Man' gift hamper is perfect for him.  This luxury gift box is packed with coffee goodies including coffee (obviously), coffee bags for on the go or in the office, a reusable travel mug plus a delicious bar of coffee flavoured chocolate (Cappuccino or Flat White).
The Cheese Man
Well let's be honest, who doesn't love cheese? So, this gift hamper sells itself . . . you should probably just buy it for 'Dad' and eat it yourself!
The Night Oot Man
Is your Dad a mad party animal? Always out for events with his family and friends. Our 'Dad's Night Oot Gift Box' has everything he needs to get ready for the big night on the town.
First up, jump in the shower and have a good scrub with the Iron brew scented soap then wash hair with the 'Norseman' hair & body wash and have a wee shave with the jar of solid shaving soap. Get the cheeky wee hip flask oot for a little 'light refreshment' with him ;-) then for the taxi home a bar of Buckfast flavoured chocolate! 
The Budding Chef
Is Dad the meal maker in the house? Does he always rustle up a good meal for the family and think he is the new Gordon Ramsay?! Then "The Budding Chef" gift hamper is perfect for him. The gift box is filled with salts, honey, mustard, oil and a spatula to stir in the amazing flavours of these awesome products.
The Unique Man
Sometimes your Dad is so unique that only you can create the gift box that he is going to love and for that we have the create your own section at our website.
Father's Day is Sunday 19th June 2022, don't forget to order in enough time and make sure Dad has the day he truly deserves.
---