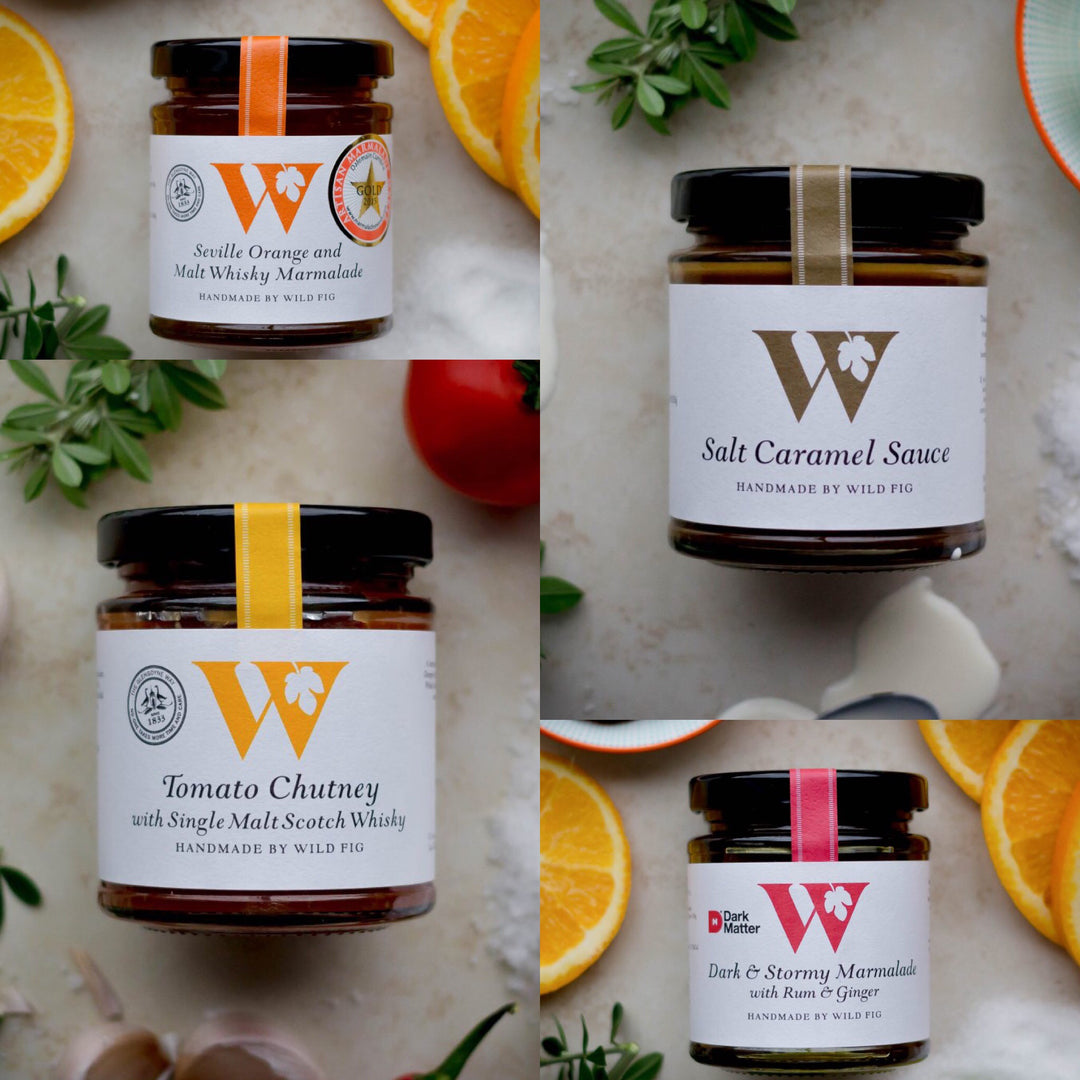 Focus on...Wild Fig Food...
History
Established in 2011 the creative skills of Justin and Nicola Maule came together, founding a business that's aim was to deliver a high quality catering service that was personal, that used the very best in locally sourced ingredients as much as possible, with no compromise on flavour.

While still continuing to cater for all manner of events, Wild Fig has expanded, moving into new markets with their growing range of produce. They now bring the same high quality multi award winning product to the kitchen and dining tables of homes around the world.  

Products
Wild Fig Food have 4 products on offer, each product expertly produced in small batches and contains only simple, natural ingredients and the finest Scottish spirits. From the wonderfully unique Glengoyne cask strength whisky, produced in a distillery that coaxes spirit through the slowest whisky stills in Scotland to Dark Matter Rum, the first and only Rum distillery in the country – to the time and experience that they invest in every jar.  

The luxurious range of artisanal preserves and condiments are:
Dark and Stormy Marmalade with Rum and Ginger
Seville Orange and Malt Whisky Marmalade
Tomato Chutney with Single Malt Scotch Whisky
Salt Caramel Sauce

Recipes
Thought these delicious products could only be used on your morning toast or on ice cream? Here are a few of our favourite ways to eat Wild Fig products:
1. Stir Seville Orange marmalade through vegetables for a citrus tang 
2. Banana and Salt Caramel milkshake using 1 Banana, 450ml Milk, 100g Vanilla Ice-Cream and 3 tsp Wild Fig's Salt Caramel Sauce.
3. Whisky Marmalade cocktail with bourbon, lemon juice, sugar syrup, orange marmalade, orange bitters and of course ice. Delish!
4. Use the Rum and Ginger Marmalade as a ham glaze
5. Add Salt Caramel sauce to baked apples or apple crumble
6. Add the Tomato Chutney to your cheeseboard...the perfect accompaniment
7. Whisky marmalade bread and butter pudding - like normal bread and butter pudding but with whisky marmalade.
8. Top a home made burger with Whisky Tomato Chutney for an extra kick

Whichever way you choose to use Wild Fig products, indulge and enjoy...

More recipes from Wild Fig Food (with and without their products) can be found here https://www.wildfigfood.com/recipes/ and all products are available on our website within pre-made hampers or why not build your own.
---