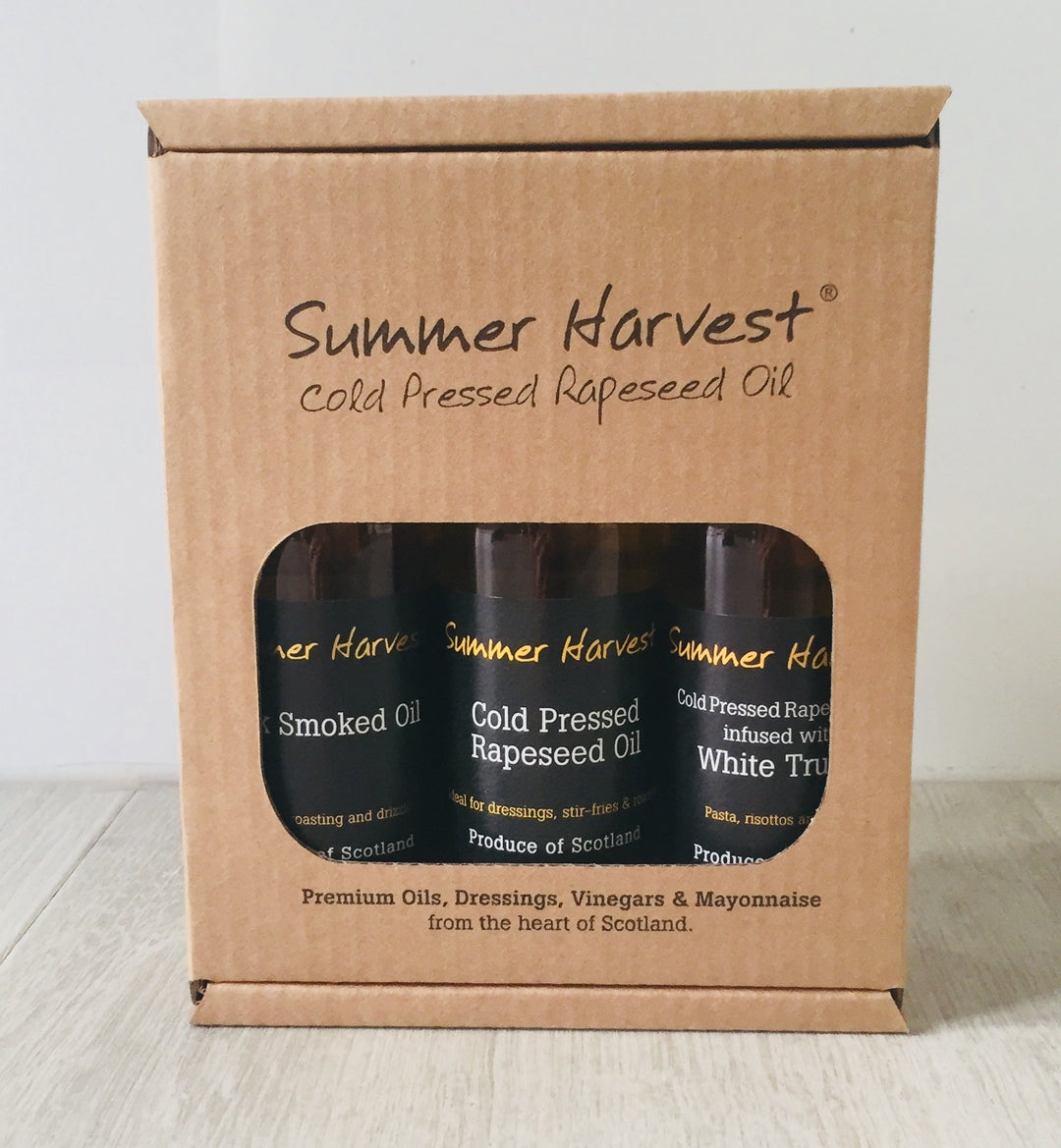 Some Amazing Recipes to Brighten Up Your Healthy Eating
Ever just looked at a product and thought...what am I meant to do with that? Well, we have come up with a few ideas for cold pressed rapeseed oil. With only approximately 6% saturated fats and a high Omega 3 content, rapeseed oil clearly has nutritional benefits over other oils.
Here are some fresh and healthy recipes for the original oil, smoked oil and oil with white truffle. Jen and I have both tried and tested these (although I can't take any credit for the recipes, that was all Jen!) and they have been a hit with all the clan. Give them a shot yourself and let us know what you think...
Crispy Kale


We have a delicious and easy recipe to brighten up the iron packed superfood kale. It can be eaten as a snack alternative to crisps or as a side of veg with your dinner.

Ingredients:
Kale
Salt Pigs sea salt
Summer Harvest white truffle oil
Black pepper

Cover a baking tray with kale and drizzle with the white truffle oil. Season with sea salt and black pepper. Stir to ensure all the kale is coated with the truffle oil and seasoning. Roast in the oven at 180 degrees and stir after 5 minutes. Cook for about another 5-8 minutes depending on how crispy you would prefer your kale.

Roasted Cauliflower Cheese


This recipe is a healthier and delicious alternative to cauliflower cheese, and with addition of the oak smoked oil it creates another depth of flavour.

Ingredients:
One cauliflower
One onion
Fresh garlic or use salt pigs garlic sea salt
Summer Harvest oak smoked oil
Summer Harvest rape seed oil
Sea salt
Black pepper
Grated cheese of your choice

Wash and prep the cauliflower and slice the onion and finely chop the garlic. In a roasting dish add a good glug of the oak smoked oil and garlic or use salt pigs garlic sea salt (about one and half teaspoons) and a good grind of black pepper. Then taste to see if you need more seasoning or more garlic.

Add the onion and cauliflower to the mixture in the roasting dish , ensure its mixed well, then drizzle with a little rapeseed oil. Cover with tin foil and roast in the oven for 30 minutes.

Remove tin foil and stir the dish. Taste again and see if your dish needs more seasoning, smoked oil or garlic. Add grated cheese onto the cauliflower (smoked cheese would also be a lovely addition but use any cheese that you prefer), pop back into the oven and roast for another 10 minutes...then enjoy!

This dish can be made with so many different herbs and spices. At Christmas we used nutmeg and cinnamon and just plain rapeseed oil. It's also lovely with Salt Pigs chilli sea salt for a bit of a kick! Happy cooking!

Hummus 


This quick and easy recipe is delicious as a dip with raw carrots, mangetout or pitta breads.

Tin of chick peas
Drizzle of rapeseed oil
Juice of one lemon
Fresh garlic one clove (or more if preferred)
Sea salt
Black pepper

Drain the chickpeas and place in a sieve then wash under cold tap. Pop them into food processor with the lemon juice, garlic and sea salt and start to blend. Add a drizzle of the rapeseed oil and season with salt and pepper. Taste the mixture, season more if required for your own taste or add a little more rapeseed oil till the hummus is the texture you prefer.
At Clan Artisan, we sell all three Summer Harvest Cold Pressed Rapeseed Oils in our Chef's Hamper, or they can be added to any Build Your Own Hamper.  Check them out at https://clanartisan.co.uk/collections/themes/products/the-cooks-hamper.  Summer Harvest also have a wide range of recipes on their website for all their products at http://www.summerharvestoils.co.uk/rapeseed-oil-recipes/.  Go on, be adventurous!
Karen
---