Hawkhead Black Garlic Whisky Smoked Salt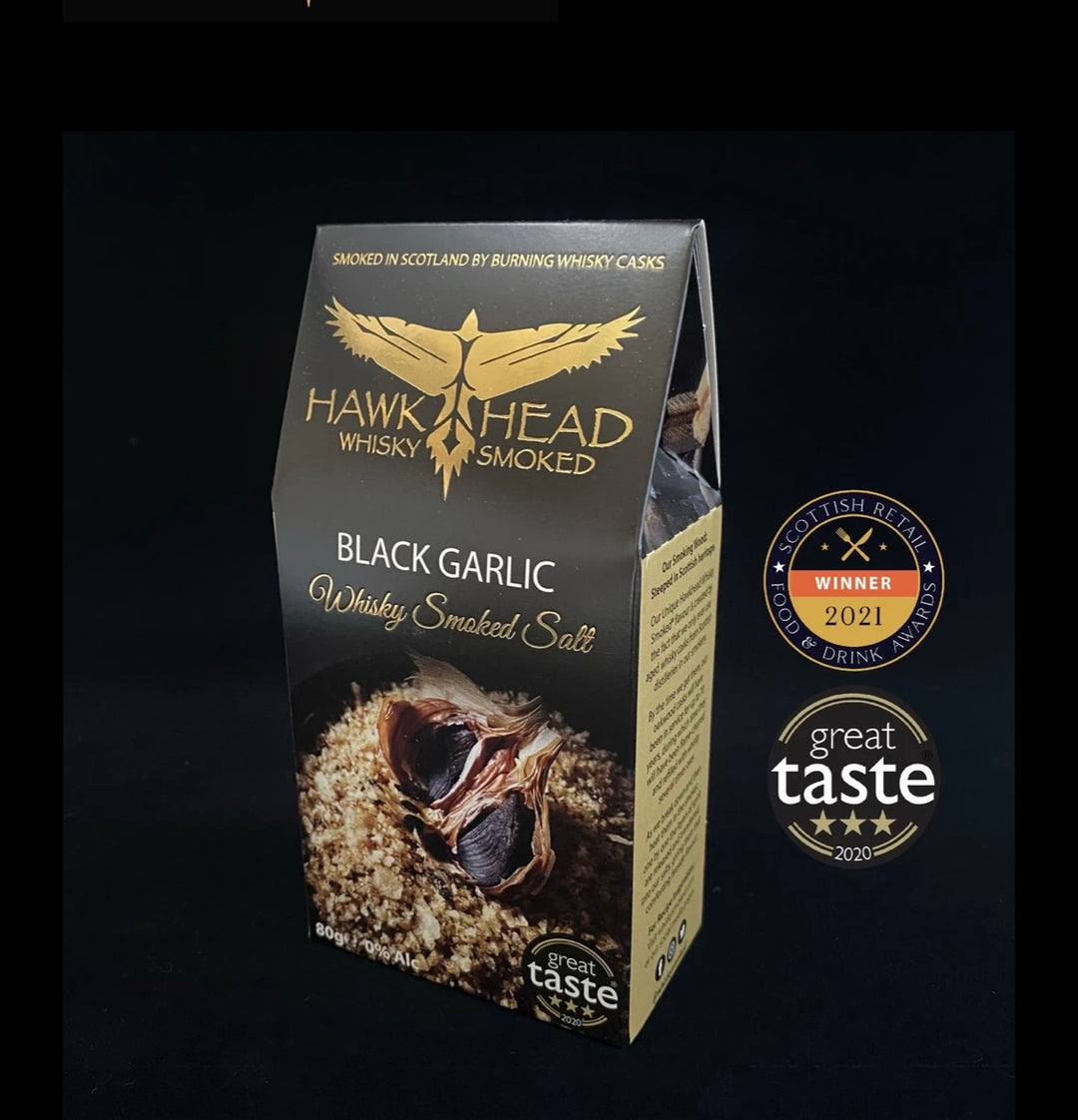 Hawkhead Black Garlic Whisky Smoked Salt
From the makers of this awarding-winning salt at Hawkhead: 
'Our unique Whisky Smoked Salts are made using triple filtered, small batch Atlantic salt from the UK which has a distinct mineral profile and a sea-fresh purity. Free from preservatives, the light crystal flakes are perfect for absorbing all the warmth and sweetness of the smoky aromas.
This salt is made using black garlic from Europe's oldest producer who has been perfecting their ageing process for more than 12 years. With its origins in Far Eastern cuisines, black garlic is an increasingly popular ingredient that has only reached European palates in recent years. Unlike raw garlic, black garlic has a uniquely mellow, umami flavour. We smoke it and crumble it into our salt for a robust and deep flavour profile.
Our Smoking Wood: Steeped in Scottish heritage.
Our Unique Hawkhead Whisky Smoked flavour is created by the fact that we only ever use aged whisky casks from Scottish distilleries in our smokery.
By the time we get them, our oak wood casks will have been in service for up to 70 years, during which time they will have been flame-charred and refilled with whisky several times over.
As we break down and then heat them in the smoker, one by one the layers of spirit are released and the aroma transferred into our salts, cashews and syrups, giving them that comforting fireside flavour.
Packaging is totally recyclable. 
Net Weight- 80g
Size- 14cm x 7cm x 4cm 
Awards
The Guild of Fine foods runs the Great Taste which is the world's largest and most trusted food and drink awards.
Our Black Garlic Whisky Smoked salt has won a 3 Star Great Taste Award 2020
Low stock - 4 items left

Inventory on the way